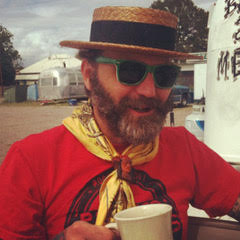 For Bruce Lee Webb, his art is his wild card. Whether he is painting with enamel paint on old barn tin or india ink on old ledgers, scrapbooks, or canvas bags, he is shooting to create something that feels timeless, like it was left behind in an old lodge hall or a circus railroad car.

Bruce Lee is co-owner of Webb Gallery in Waxahachie and along with his wife Julie, has spent a lifetime looking for the genuine in all things. Together they have operated the gallery for 30 years, amassing a collection of artwork and things which inspire and speak to their sense of wonder.

In 2015, Bruce Lee co-authored As Above So Below – the Art of the Fraternal Lodge, which was published by University of Texas Press and featured the Webbs' collection narrated with Bruce's vast knowledge of the historic mysteries of the Fraternal Lodge.